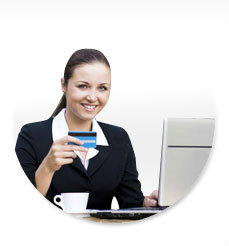 Online Bill Pay
Online bill pay puts money in your pocket by virtue of saving you a valuable commodity—time. Your list of bills and vendors may seem as long as the Mississippi, making payments a constant part of your day.
This service allows you to pay bills 24/7, anywhere with internet access. Avoid unnecessary trips to the bank, and keep your focus on everything else vital to your success.
Summary

First month available for free!

Pay bills 24/7, around your schedule

Make payments from anywhere with internet access

Pay one-time or recurring payments

Schedule payments in advance

Eliminate delays caused by mail delivery

Save money on late fees and postage materials




Learn more through our online bill pay demo.